White with Gold Vein Epoxy Resin Floor
Liquid Marble(Metallic Epoxy) for Commercial and Office Spaces
Liquid Marble is a Premium Metallic Epoxy System designed to give the Strength of industrial coatings with the integration of Pearlescent Metallic pigments to transform your surface to an Elegant Durable Finish. The use of the Best Raw Materials creates the most fluid, dynamic and most versatile designs available in the Philippines. Majestic Chemicals offers a next Generation System that can be installed in a minimum of 2 days providing stunning visual effects that will last you a Lifetime.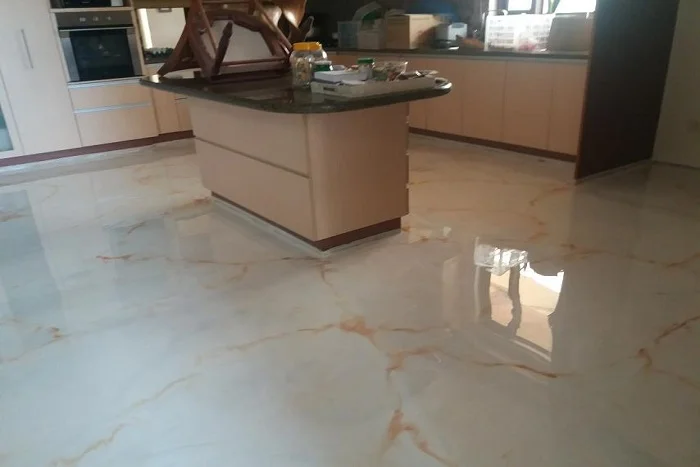 Surface Condition
This Designer Flooring is proudly brought to you by the team of Majestic Chemicals Industries. The floor had an existing colored self-leveling epoxy which was bonded to the concrete very well.
Surface Preparation
We prepared the surface using a Planetary Floor Grinder to lightly scratch the surface so that the base coat will adhere effectively. A small area needed to be leveled by epoxy putty.
Basecoat
We applied Majestic Epoxy Primer (White) as a base coat as the design was light. The base coat is needed in order to hide the previous colored coating.
Metallic Design Coat
We then poured all four(4) colors to the entire area. The coating does not need to cover the entire area immediately. We then used a squeegee to spread and blend the colors for the design. We then backrolled the poured coating to evenly paint the entire area watching for uncoated surfaces.
Clear Coat
After curing for 24 hours, we then applied our Majestic Clear Sealer which was UV and Abrasion Resistant to lock in the design.
Overall
This was a nice and quick project that required only 2 days with one day curing for foot traffic and 3 days curing for forklift traffic. Full cure was 7 days for the full Chemical Resistance.
Fast And Reliable Service For Your Project Or A Quick Fix, We Do It All!
For a premium epoxy flooring in the Philippines that will last, contact Majestic Chemicals. We have been a trusted epoxy paint manufacturer for years, and our epoxy flooring in the Philippines' price is competitive, despite the high quality and performance it provides.
Contact us today for a free quote!