Commercial Kitchen Flooring Philippines
Commercial Kitchen Flooring Philippines
What do people look for in a Commercial Kitchen Flooring in the Philippines? In food preparation areas, such as commercial kitchens, Epoxy Floor Coatings are of paramount importance as the flooring impacts an entire facility. Food industry floors are typically exposed to contaminants that can cause serious damage to concrete because of their corrosive nature. Additionally, these types of impurities can infiltrate un-coated concrete surfaces resulting in the growth of bacteria and subsequently degrade processed food's purity. Our systems offer a seamless, impermeable barrier that can be easily cleaned and ensure a hygienic surface and is safe to walk on.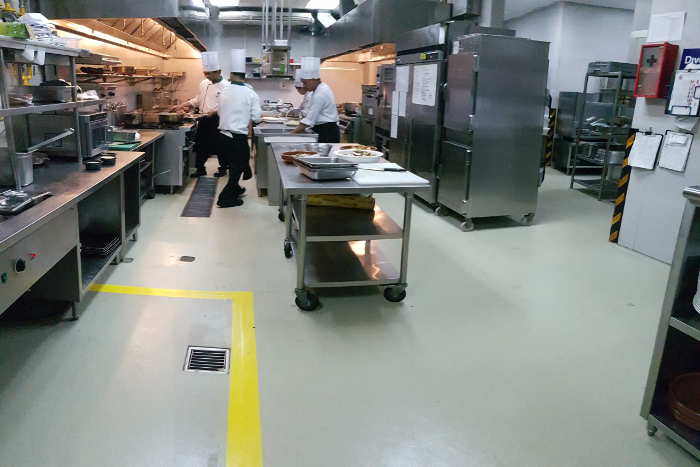 Case Study: Commercial Kitchen Flooring Philippines
Products Used : Self Leveling Epoxy
Surface Condition
At first glance the area really needs a coating suitable for a Commercial Kitchen Floor in the Philippines. The area started as old tiled flooring which had missing and broken tiles. The tiles were solid and installed very well. Deep seeded dirt in the grout caused bacterial growth.
Surface Preparation
We prepared the surface using a Scarifier in order to embed the primer ensuring maximum bond strength. We then used Majestic Degreaser to the entire area to remove the deep seeded oil and dirt.
Primer and Repair
We first used Majestic Epoxy Mortar to fill in the grout marks, craters and cracks to ensure a flat surface. We then applied Majestic Epoxy Primer to the entire area while broadcasting the silica sand.
Topcoat
We then applied the Polyurethane Mortar 6mm thick. The product has the best quality among all the polyurethane mortars we have applied so far.
Overall
This was a nice and quick project that required only 2 days with one day curing for foot traffic and 3 days curing for forklift traffic. Full cure was 7 days for the full Chemical Resistance. The Commercial Kitchen Floor is now ready to receive daily abuse from scalding oil to dirt and bacteria. It is now very easy to clean and discourages bacterial growth.
Fast And Reliable Service For Your Project Or A Quick Fix, We Do It All!
For a premium epoxy flooring in the Philippines that will last, contact Majestic Chemicals. We have been a trusted epoxy paint manufacturer for years, and our epoxy flooring in the Philippines' price is competitive, despite the high quality and performance it provides.
Contact us today for a free quote!