Plywood and Hardiflex Floor Paint
Plywood and Hardiflex Floor Paint
What are the best characteristic in a paint material for Plywood and Hardiflex floor. First you need a material with good adhesion to wood, epoxy is a natural adhesive that bonds most surfaces. It would also be perfect if your coating is waterproof. These floors are usually located in lofts or higher level floors, a lot can happen to this floors from spills to moisture seepage. Majestic Resins can address this concerns as it is a completely waterproof material. You would also need an abrasion resistant material for light to medium traffic. Majestic Self Leveling epoxy floor is Industrial Grade meaning it can withstand abuse from heavy traffic of forklifts to 24/7 production facilities.
Majestic Self Leveling Epoxy Floor Paint is the best option for a Plywood or Hardiflex Flooring. Our paint has the flexibility you need for Plywood and Hardiflex floor while protecting it from abrasion, chemicals, foot traffic and is specifically used for waterproofing.
How to epoxy paint on wood Video. <—–Click this link for an Instructional Video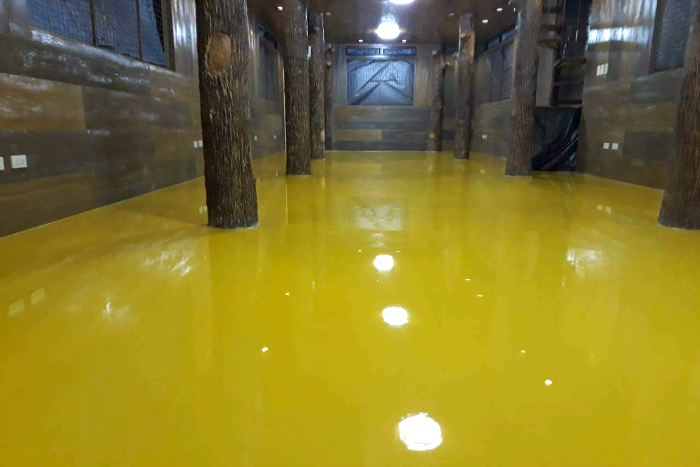 Plywood and Hardiflex Floor Paint Case Study
Surface Condition
We used a material that can be used to paint a Plywood or even a Hardiflex (Cement Fiberboard). The area was perfectly prepped by our team. It consisted of wood and fiber cement boards. The floor had joints between fiber cement boards. The owner was consistently having water leaks.
Surface Preparation
The surface preparation team first needed to remove the rubber filling in between the fiber cement boards. The area was then prepared using hand grinders with a planing attachment. All this grinding must have minimal dust so there is a vacuum attachment with all the machines used.
Primer and Repair
Epoxy Mortar was then used to fill in the deep fiber cement joints. It was then applied with Majestic Epoxy Putty to even out the areas in preparation for the Topcoat. Then Majestic Epoxy Primer was applied in the area. Then another application of Majestic Epoxy Putty was applied to the entire area. The team had full communication with the owner in every step.
Topcoat
The application of Majestic Self-Leveling Topcoat to the flooring was applied per room. This was done to ensure a seamless finish in every room.
Summary of Plywood and Hardiflex Floor Paint
The project Plywood and Hardiflex Self Leveling Epoxy Flooring took 1 week before turnover. The coordination of our team and the owner made this project successful. Planning and execution are the key to every project.
Fast And Reliable Service For Your Project Or A Quick Fix, We Do It All!
For a premium epoxy flooring in the Philippines that will last, contact Majestic Chemicals. We have been a trusted epoxy paint manufacturer for years, and our epoxy flooring in the Philippines' price is competitive, despite the high quality and performance it provides.
Contact us today for a free quote!