Warehouse Flooring Philippines
Warehouse Flooring Philippines
What to look for in your warehouse flooring especially in the Philippines. Your main concern would be abrasion resistance for Heavy Forklift Traffic. Warehouse floors require specialized coating systems with a minimum thickness of 2mm. These coatings are waterproof and capable of withstanding significant amounts of abuse, including heavy weights, high traffic, abrasion, spills, stains and more. Epoxy coatings have low porosity, which means that they can effectively protect your floor from dust, debris, oil and harsh chemicals. In addition, epoxy floor coatings also improve the appearance of the floor, providing it with a glossy finish that will impress your customers and your staff.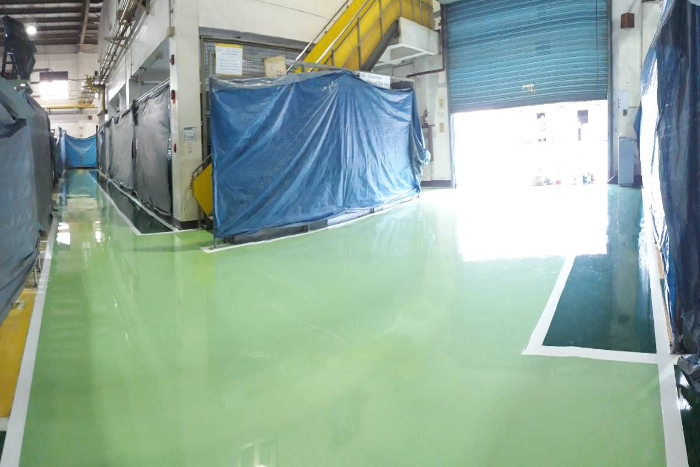 Case Study : Warehouse Flooring Philippines
Products Used: Self Leveling Epoxy
Surface Condition
The Warehouse Flooring in the Philippines was perfectly prepped by our team. The concrete was old and had major cracks and dilapidated areas. There were also rubber in between construction joints which has to be removed and filled. The floor had no signs of grease and oil which is great.
Surface Preparation
The surface preparation team first needed to remove the rubber filling in between construction joints. The area was then prepared using a Planetary Grinder with a planing attachment. All this grinding must have minimal dust so there is a vacuum attachment with all the machines used.
Primer and Repair
Epoxy Mortar was then used to fill in the deep concrete joints. It was then applied with Majestic Epoxy Putty to even out the areas in preparation for the Topcoat. Then Majestic Epoxy Primer was applied in segments as the area had other contractors with different works. Then another application of Majestic Epoxy Putty was applied to the entire area. The team had full communication with the main contractor in every step.
Topcoat
The application of Majestic Self-Leveling Topcoat to the warehouse flooring was applied per room. This was done to ensure a seamless finish in every room.
Summary
The project Warehouse Flooring in the Philippines took 1 month as there were ongoing works from various trades. The coordination of our team and the main contractor made this project successful. Planning and execution are the key to every project.
Fast And Reliable Service For Your Project Or A Quick Fix, We Do It All!
For a premium epoxy flooring in the Philippines that will last, contact Majestic Chemicals. We have been a trusted epoxy paint manufacturer for years, and our epoxy flooring in the Philippines' price is competitive, despite the high quality and performance it provides.
Contact us today for a free quote!