Kitchen Epoxy Flooring for Residential Spaces
Investing in residential epoxy kitchen flooring can upgrade your kitchen's longevity, usability, and aesthetics. With epoxy coating, you get a durable floor that can withstand daily wear and tear while maintaining its pristine condition.

Gone are the days of worrying whether your spills or accidental ceramic breakages ruin your floor. Using epoxy for your kitchen flooring can ensure safety, style, and overall, a better quality in everyday life.
Take Advantage of Epoxy Coating for Kitchen Floors
Using epoxy paint for kitchen floors is a great way to preserve your kitchen's aesthetics and functionality. The durability and chemical resistance of epoxy creates a sturdy surface that can resist daily use without getting damaged. Dirt and spills can be easily cleaned with a sweep of a broom or by running a rag over them.

And because epoxy has a smooth and non-porous finish, it's resistant to trips, slips, and falls. Plus, you won't have to worry about bacteria growth since there won't be areas for it to grow and foster.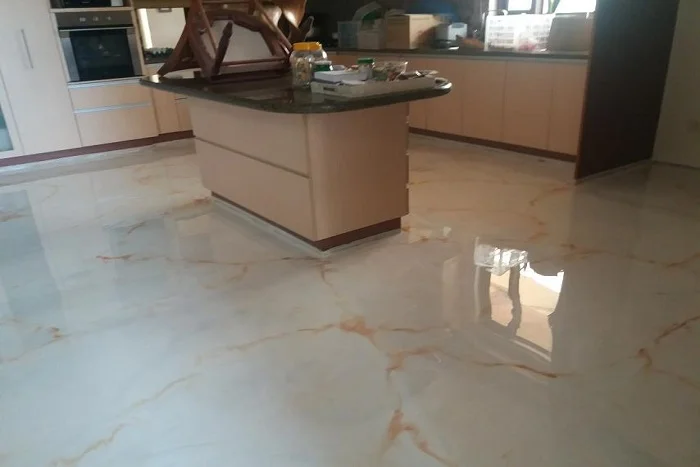 Improved Safety and Hygiene
The non-porous and smooth composition of epoxy resin kitchen floors makes it a safe space free from bacteria and mold due to the absence of grout and joints.
Increased Durability
The resin and hardener composition of epoxy coating makes for a sturdier and more stable floor, perfect to use for heavy appliances, countertops, and cabinets.
Easy Maintenance
Because epoxy-coated floors are non-porous, you can easily clean the dust and liquid spills without having to worry about it seeping through crevices.
Our Epoxy Resin on Kitchen Floors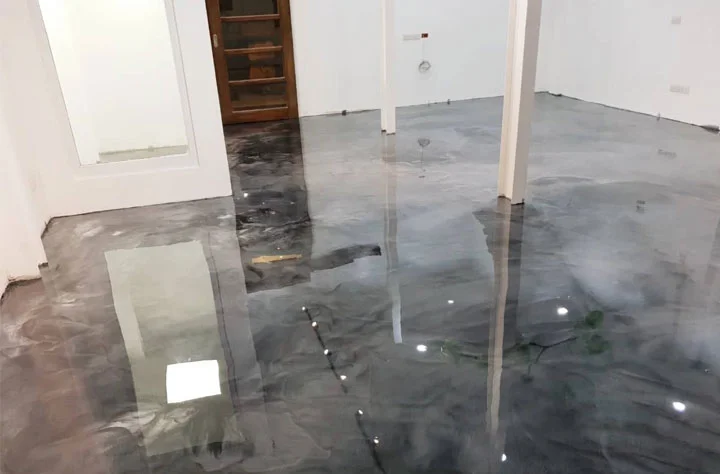 Project 1 Pampanga Project: Mexico Residence
With the expertise of Majestic Chemicals in upgrading epoxy kitchen floors, two trusted local architects in charge of a Pampanga residential project partnered with us to provide and install the black and gold marble flooring they designed.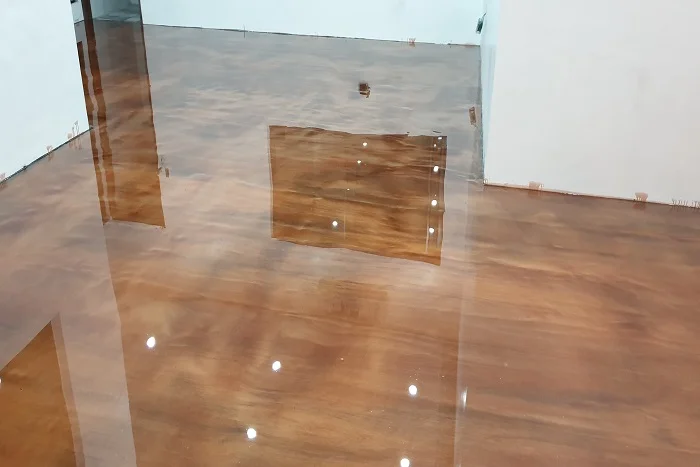 Project 2 Laguna Project: Pila Residence
When Mr. Christopher Mangay contacted Majestic Chemicals, he was looking for high-quality products and services to create a solution for the kitchen flooring of his residence. And through a collaborative effort, we installed a self-leveling white epoxy coating with wood-accented flooring to upgrade his space.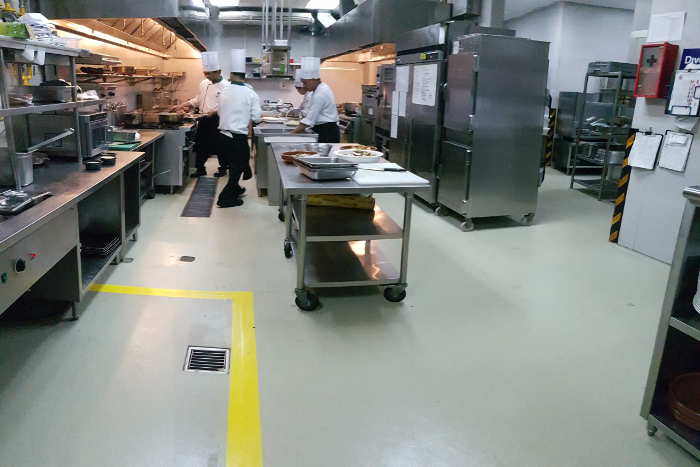 Project 3: Ninyo Familia Project
With the experience of Majestic Chemicals in various epoxy coating applications, Ninyo Familia approached us to provide flooring solutions for their commercial kitchen. We installed high-quality self-leveling floors to create a pristine finish that addresses the needs of Ninyo Familia's restaurant kitchen floor.
Partner with Majestic Chemicals for your Epoxy Kitchen Floor Needs
If you're looking for a reliable epoxy coating solution for your kitchen floors, partner with us!

Here at Majestic Chemicals, we specialize in high-quality epoxy manufacturing that's designed to help our clients' epoxy needs. We guarantee that our products and experience will give you the best value for your money.

Get in touch with us today to learn more about how we can service your kitchen floors!